As the premier international trade fair for electronic music, Superbooth is the perfect platform for music tech companies to showcase their latest and greatest products. With each passing year, the event continues to grow and attract an increasing number of manufacturers and enthusiasts from around the world. Superbooth 2023 promises to be no exception, with a plethora of new gear releases and innovations in music technology set to be unveiled.
In this blog post, we will take a closer look at some of the most exciting new products and developments that are expected to be showcased at Superbooth 2023. So, whether you're a seasoned electronic musician, a music technology enthusiast, or just curious about the latest advancements in music gear, sit back, relax, and join us on this journey of discovery.
Roland S-1 Aira Compact
Today Roland unveiled the new AIRA Compact S-1 Tweak Synth. Inspired by the sound of the legendary Roland SH-101, the newest pocket-sized AIRA Compact member is paradise for sound lovers, especially at this price point! With its intuitive interface and advanced sound engine, the S-1 Tweak Synth allows users to create unique sounds and textures that can be used in a variety of musical genres.
The S-1 is a micro polysynth with wave manipulation, onboard sequencing, and a range of unique performance features. One of the standout features is its ability to combine multiple waveforms and filters to create complex sounds. This allows users to create sounds that are truly their own, and not simply variations on existing presets.
The S-1 Tweak Synth also includes a range of onboard effects, including reverb, delay, and distortion. These effects can be used to further shape the sound and add depth and character to each note.
Elektron Analog Heat+FX
Elektron literally bringing the HEAT with the new Analog Heat+FX, a dynamic sound processor. It builds on the original – Analog Heat MKII audio interface with multiple analog distortions with the new additions of digital effects such as reverb, delay, chorus, warble, bit reduction, rearrangeable routing, and expanded modulation.
At the heart of the Analog Heat+FX is its analog signal path, which features eight different analog distortion circuits that can be combined and tweaked to create a vast array of unique tones and textures. One of the most exciting features of the Analog Heat+FX is its built-in effects section, which includes a range of high-quality digital effects like delay, reverb, and chorus. These effects can be used in combination with the analog distortion circuits to create even more complex and interesting sounds.
Arturia MicroFreak Stellar
Meet the new Arturia MicroFreak Stellar, a hybrid synthesizer that combines digital oscillators, analog filters, quirky modulation, a uniquely flat PCB keybed, and expressive sequencing with a subtly out-of-this-world aesthetic design. 
With it's a sleek all-black exterior and unique space-age design primes this hybrid beast for an interplanetary sonic voyage, this limited-edition MicroFreak combines over 20 digital oscillator modes, new sound engines, and exciting new V5 firmware which introduces user sample importing, a sample playback engine, 3 new granular engines, enhanced envelopes, and more - free for all MicroFreak users.
Teenage Engineering CM-15 + TP-7
Swedish electronics company Teenage Engineering surprises us with two new product announcements! Like all their products, this one is no different when it comes to the brand's supreme attention to detail serving looks and needs well beyond function alone.

First up, TP–7 field recorder features three stereo two-way jacks to be used as either inputs or outputs, for connecting external mics, headphones, studio monitors, or any other audio equipment like TX–6 or OP–1 field. Use usb-c for multi-channel audio interface, midi, data transfer and charging. Ble and MFi give you wireless connectivity. TP–7 also includes our 6.35 mm to 3.5 mm jack adapter. Add to that 128 GB of internal storage and you can preserve 5 minutes of ideas a day for 20 years.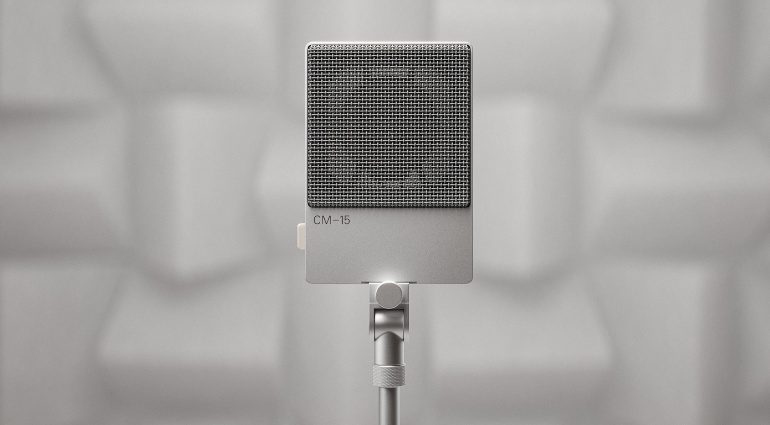 Up next, introducing CM–15 field microphone, a portable large-diaphragm condenser microphone. The first all-in-one mic offering a combination of 48V phantom powered mini XLR, usb-audio interface and preamp, 3.5 mm line output and battery power. Ultra-portable with transparent and clean sound quality, a 10 hour rechargeable battery, 3x gain settings and a built-in stand, CM–15 is ready to use wherever you like to record.
Oberheim OB-X8 Desktop Module
Tom Oberheim has announced the OB-X8, a slimmed-down eight-voice desktop module that brings the heat of the OB-X, OB-Xa, and OB-8 designed with modern enhancements, for musicians on the move. 
CEO David Gibbons says, "we've heard an overwhelming desire for a desktop module version catering to those whose free studio space doesn't quite match their enthusiasm for unique synth sounds."  
The OB-X8 desktop module offers almost all of the features found in its full-sized counterpart while taking up a fraction of the space, boasting an identical sound engine and the same knob-per-function panel as the keyboard version. And with its knob-per-function front panel, you'll have immediate access to virtually all the synth's parameters, allowing you to create your own unique sounds with ease and precision. 
Empress Effects Heavy Menace
The Heavy Menace is an evolution of the Heavy distortion pedal in a compact enclosure by the Canadian pedal specialist Empress Effects. In addition to the original Heavy and Heavier modes, the Heavy Menace adds a new Lite(ish) mode, covering any high-gain sound from classic hard rock to searing modern metal.
The three-band EQ features a sweepable midrange frequency, and the Weight control sculpts low frequency response for thick, full chords or tight palm muting. The footswitchable gate adapts to your playing, decaying naturally over sustained notes and clamping down during fast stops, with a key input for additional flexibility.
Sonicware Liven Texture Lab
The team at Sonicware unveils the fifth member of the successful LIVEN family. The LIVEN Texture Lab offers a wide variety of sound textures ranging from beautifully lush ambient pads to chaotically aggressive experimental noise that will take you to new sonic frontiers.
This synth uses a granular processor that slices sounds into grains ranging from 2 ms to 1 second in length, then transforms and reconstructs them in a variety of ways, including manipulating grain shape, density, time warp, spatial position, and playback method to create entirely new sounds.
The Texture Lab is a 4-voice polyphonic synthesizer that can record 32 samples of up to 6 seconds, generate grains from any part of a sample, and synthesize them using two modulations sources, an envelope generator, and process the sound through different filter types. It can also be used as an effects processor for real-time granular processing of stereo signals from the line input. It is also possible to freeze the flowing sounds for 6 seconds to add granulated sound effects.
Electro Harmonix Hell Meter Distortion Pedal
Get ready to melt everyone's face off with EHX's most metal pedal yet with its new Hell Melter Distortion! The Hell Melter takes distortion to its extremes with it's take on the cult classic chainsaw distortion pedal with expanded controls and tonal capabilities. This distortion circuit originally designed as the ultimate in high-gain is now known for the death metal sounds of the likes of Sweden's Entombed, and the shoegaze wash of My Bloody Valentine. 
Make Noise Spectraphon
Meet the
Make Noise/soundhack Spectraphon
 - a dual Spectral Oscillator coded by
Tom Erbe
of soundhack. It uses real-time spectral analysis and resynthesis to create new sounds from those that already exist. It is inspired by classic electronic musical instruments of the past, including spectral processors, additive synthesis, vocoders, and resonators (especially the Buchla 296 and Touché) but it takes a physical form more resembling the classic
analog dual complex oscillator in the lineage of the Buchla 259 and the Make Noise DPO.
The
Spectraphon
is the first module to be built by Make Noise on its new digital hardware platform. This hardware, engineered by Jeff Snyder and Tony Rolando, provides more i/o at higher resolutions, and a lower noise floor than we have ever had access to in a digital module, allowing us to unleash Tom Erbe's DSP code to a previously unattainable degree.