As the premier international trade fair for electronic music, Superbooth is the perfect platform for music tech companies to showcase their latest and greatest products. With each passing year, the event continues to grow and attract an increasing number of manufacturers and enthusiasts from around the world. Superbooth 2023 promises to be no exception, with a plethora of new gear releases and innovations in music technology set to be unveiled.
In this blog post, we will take a closer look at some of the most exciting new releases that are showcased at Superbooth 2023. Hopefully these Eurorack modules will find a way into your racks and inspire you to create your own universe of sounds, both classic and avant-garde.
Bastl Instruments Basil
Bastl Basil is a compact, yet flexible, digital stereo delay module built on the Bastl Pizza platform. It offers clean delay, as well as lo-fi flavors, and its Space section opens the doors to exploration far beyond simple delay territory. The Basil delay buffer modulates really well, allowing to recreate most classic time-based effects, such as chorus, flanger, vibrato, pitch shifter, reverb, and stereo widener, among others, and navigate between them with just a few performative gestures. 
Knobula Pianophonic 
Introducing Pianophonic by Knobula is an 8 voice polyphonic wavetable synth that takes its inspiration from the piano's string and hammer mechanism mixed with a bit of 90s digital keyboard charm. Offering 3 wavetable oscillators and a single sample playback engine per voice, Pianophonic generates rich and complex evolving sounds as well as extraordinary hard hitting piano-like sounds. Its a fully featured versatile polyphonic oscillator 12hp module that can sit at the core of your eurorack system. 
Dreadbox Telepathy
Meet Telepathy, Dreadbox newest full-voice analog synthesizer eurorack 10hp module with multichaining via MIDI and plenty of sound creation capabilities. You can create bass sounds, drums and drones. It also has a fully analog signal flow in addition to Typhoon oscillator, 4-pole low pass and 2-pole hi pass filters and analog VCA, all digitally controlled for greater precision, resulting in that warm, present and distinctive Dreadbox sound. 
Oxi Instruments Coral
​Look, it's the new OXI Instruments Coral! And you know what's so cool about it? It's polyphonic! It's also multi-timbral, multi-part and multi-engine, which allows you to freely use the 8 available voices however you want to. Polysynth, drum machine, groovebox in one module? This thing can do it all. ​This is an entire polyphonic synthesizer designed to interface with your Eurorack synthesizer from an amazing company that is OXI Instruments, known for their infamous OXI One that's been making waves in the gear world lately.
Make Noise Spectraphon
Meet the
Make Noise/soundhack Spectraphon
 - a dual Spectral Oscillator coded by
Tom Erbe
of soundhack. It uses real-time spectral analysis and resynthesis to create new sounds from those that already exist. It is inspired by classic electronic musical instruments of the past, including spectral processors, additive synthesis, vocoders, and resonators (especially the Buchla 296 and Touché) but it takes a physical form more resembling the classic
analog dual complex oscillator in the lineage of the Buchla 259 and the Make Noise DPO.
The
Spectraphon
is the first module to be built by Make Noise on its new digital hardware platform. This hardware, engineered by Jeff Snyder and Tony Rolando, provides more i/o at higher resolutions, and a lower noise floor than we have ever had access to in a digital module, allowing us to unleash Tom Erbe's DSP code to a previously unattainable degree.
Tiptop x Buchla 207t + 296t
Tiptop Audio + Buchla expand their Buchla 200 series modules in Eurorack format with the monster 52 HP 296t, a 16-band Spectral Processor capable of vocoding, spectral analysis, complex filtering and more to be discovered. The 207t on the other hand is a 28 HP Mixer and Preamplifier module with CV panning. Preorder and pricing is unknown, but both modules are expected to be released in August this year. Keep an eye on this page for more info.
Befaco 7U Case
Equipped with Befaco's latest and most sophisticated power supply (Trolley Bus), the Befaco 7U Eurorack case supplies up to 5000mA of power, designed to cater to the durability, connectivity, and power requirements of modern modules. The rear panel count offers a vast array of connections to pair your system with external devices. Each connector follows the Intellijel format, making them fully compatible with Intellijel's 1U modules.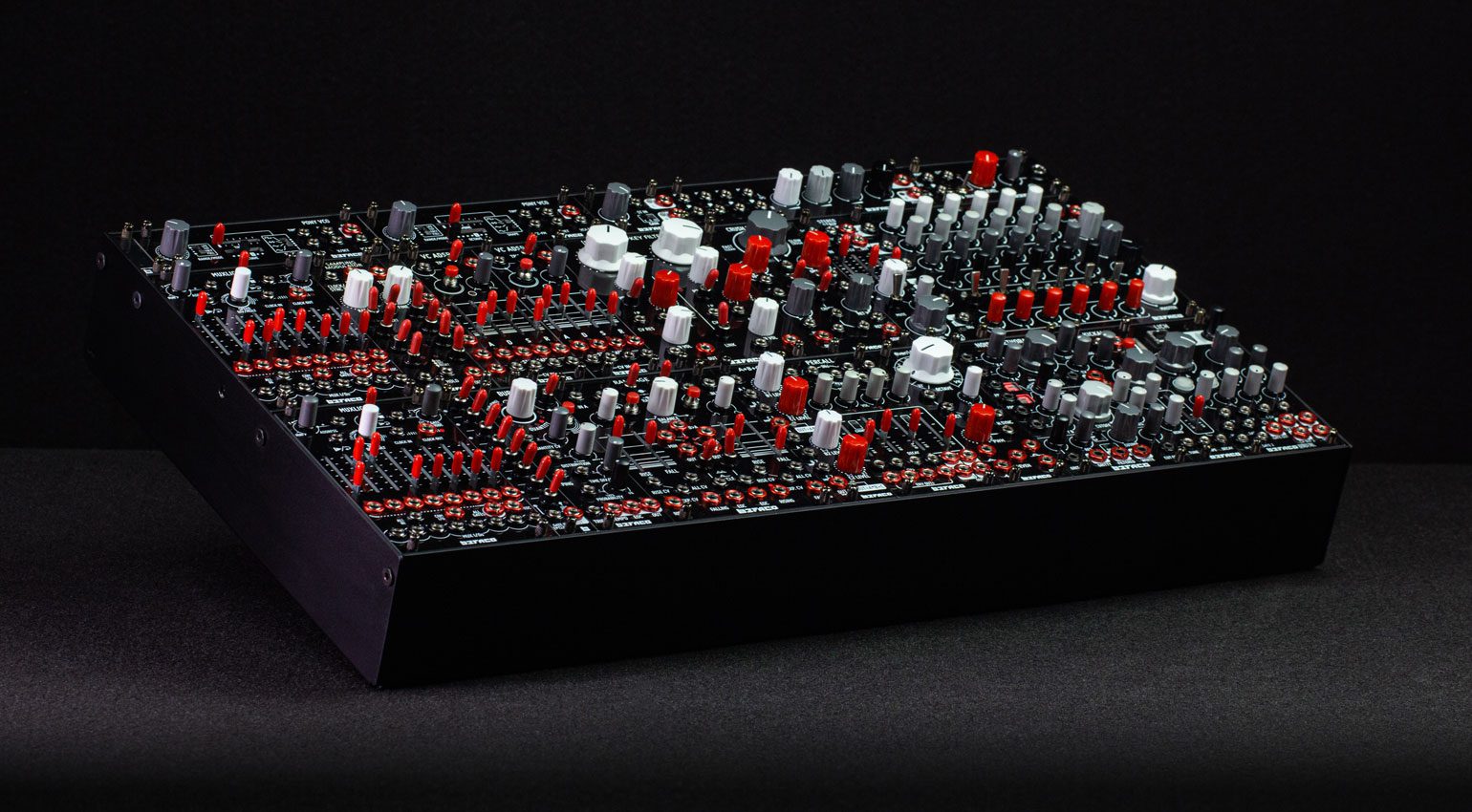 One of the coolest features about this case is definitely the Vesa mount compatibility that will enable you to save space in your studio by attaching the case to desktop or wall VESA stands. If desired, you have the option to buy the Befaco 7U DIY case version in order to assemble the case yourself, allowing you to choose the placement of the 1U row (top, middle or bottom).
Instruo Aradh + Tagh V2
Instruo has introduced two new solid modules to their catalogue: àradh and tágh, a new feature-rich filter and multi-function modulation module.
The Instruō Àradh is a new take on a transistor ladder filter and fills the role of fat "East" Coast subtractive filter as well as adding a dedicated low-pass gate (LPG) to the Instruō range – a true sound-shaping powerhouse in only 6 HP.
The Instruō Tágh is a "Swiss Army Knife" modulation source. It features an analogue sample and hold, white noise generator, digital random voltage generator, morphing LFO, and probabilistic trigger generator, all with a unique phase-adaptive tap tempo functionality. It's a 4HP powerhouse of modulation sources and clock utilities.
Frap Tools Cunsa
Say hello to CUNSA by Frap Tools, a quadruple analog pingable multimode resonant filter, saturator, mixer, and oscillator. From a gentle refining touch to a shovelful of spice, CUNSA is the perfect seasoning tool for your patches. It can sweeten a sour lead or beef up an insipid bass line, and anything in between. It consists of four multimode resonant filters with a custom saturation and feedback control that you can use independently or in various combinations and roles thanks to a series of seminormalizations.
Noise Engineering Roucha
Roucha Legio is a 12 dB /octave state-variable stereo multimode filter available on the Legio DSP+oscillator platform. The filter features lowpass, bandpass, and highpass settings and tracks frequency via the dedicated encoder and extremely accurate 1v/8va CV input. Roucha Legio's CV-controlled resonance parameter can go from clean to acidy-squelchy for bassline joy.
Just tap the encoder to bypass; tap again to turn the filter on again. Want to automate it? Send a gate into the Bypass input. The filter will remain bypassed as long as a high gate is present. 
XAOC Devices: 5 New Modules
XAOC introduces five new modules at this years event and here's what they have to offer:
Rostock is a component of the Leibniz Binary Subsystem. It is a data pipeline, a FIFO (first in—first out) shift register, or a very short digital delay. The module operates similarly to a BBD delay or an ASR (analog shift register), except that it is digital. It consists of a chain of memory cells that pass bits from one to another at each clock cycle.
Drezno II is an improved version of the original Drezno module. It is an essential member of the 8-bit Xaoc Devices Leibniz Binary Subsystem. The Leibniz subsystem is a family of modules that operate on 8 binary (two-state, on/off) signals. These signals are arranged as 8 bits of digital data and may represent analog signals and voltages,or they may be whatever you want them to be (clocks, gates, rhythms, etc.).
Bohumin is a 10HP expander for the Ostrawa stereo mixer. It provides a second full stereo AU bus with voltage control over channel effects. It includes manual attenuators for stereo returns of AUX A and AUX B, and four gate inputs for clickless muting of each stereo input channel. It is not compatible with the Praga module.
Ostrawa is a voltage-controlled mixer with four stereo channels. It offers a stereo mixing bus, individual level meters, stereo auxiliary sends (pre/post VCA switchable) with stereo returns, clickless muting, and a clean signal path with high-quality VCA and opamp chips. The control circuit integrates internal voltages from potentiometers with external CV for volume and stereo balance, resulting in a natural attenuator response that maintains usable VCA gain and minimizes distortion.
Deva is an expander designed for the Timiszoara multi-fx module by Xaoc Devices. It provides new possibilities to explore the creative and gritty side of signal processing. Deva enhances the beloved Timiszoara programs with unexpected twists and turns. On the analog side, Deva features two external feedback loops (one for each channel) with adjustable tilt filters controlled by sliders. Additionally, there are two switches to select positive or negative feedback for each channel. The third slider controls the DAC clock, allowing for overclocking by a factor of two or slowing down by 16 times, enabling a range from chipmunk-like effects to hardcore underclocked textures. There is also a switch to deactivate the clock control for normal operation. All these features can be modulated using external CV inputs.